History
The Village of Sauget Physical Chemical Treatment Plant, commonly referred to as PChem, is the original wastewater treatment facility located in Sauget, Illinois.  It is owned by the Village of Sauget and is operated and maintained by a non-profit corporation, the Sauget Sanitary Development and Research Association (SSDRA).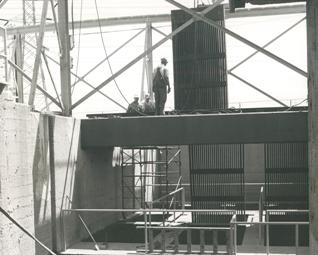 PChem originally consisted of two pump stations, built in 1942 and 1952, which were used for flood protection. Additions were made in 1966 to turn the facility into a primary treatment facility, serving the large industries located in Sauget. The facility has undergone continuous renovations and upgrades, with the largest treatment expansion completed in 1976.
In 1986, the American Bottoms Wastewater Treatment Plant was opened  to treat PChem effluent along with municipal treatment for East St. Louis, the Village of Cahokia, the Village of Sauget, parts of Alorton, Centreville, and Belleville, and areas in Centreville Township served by the Commonfields of Cahokia Public Water District.
American Bottoms was established to meet the secondary treatment requirements of The Clean Water Act of 1972.  Construction was financed with $66,000,000 of grant money from the USEPA and the IEPA along with $42,000,000 in municipal bonds issued by the Village of Sauget.
Both PChem and American Bottoms are owned by the Village of Sauget, and are operated under a regional agreement with SSDRA.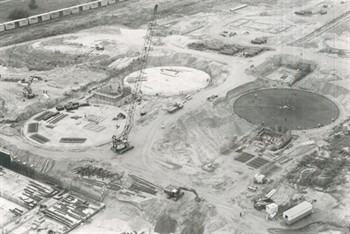 The American Bottoms plant was built based on recommendations from engineering firms that conducted extensive evaluations and studies of regional wastewater treatment facility proposals. In May of 1976 they submitted their report to St. Clair County. The report contained evaluations of 19 different alternatives.
Their final recommendation was to construct a consolidated regional wastewater treatment facility in Sauget that would treat wastewater from the Village of Cahokia, the Village of Sauget, and the City of East St. Louis.
They also recommended that wastewater being treated at the MESD Lansdowne facility be conveyed to the Granite City facility, that the existing primary treatment plants in East St. Louis and Cahokia be shut down, and that the PChem facility should continue to pretreat Sauget industrial wastewater before being sent to the new American Bottoms treatment plant for secondary treatment.
American Bottoms and PChem have a governing Board of Directors.  In addition, the Village of Sauget Board of Trustees regulates rates, budgets, and other financial concerns.The communities involved hired the engineering firm of Russell and Axon to design the new American Bottoms facility. The formal agreement between the communities for the construction and  operation of the American Bottoms plant was submitted to the appropriate governing bodies in the fall of 1977.  This formal agreement is called the 1977 Regional Agreement. An essential part of this agreement is that each community and not the region, as a whole, was to remain responsible for the operation, repair, and maintenance of its own sewer system.